CLIENT TESTIMONIALS & SUCCESS STORIES
Raina Carter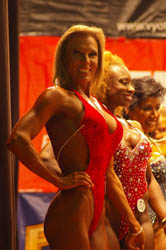 Congratulations to our client and friend, Raina Carter, for placing 2nd in the 45 and over division, as well as 2nd in the open division, in the 2007 Excalibur Women's Figure Competition!

It was Raina's first competition and a tougher show for a first-time competitor would have been hard to find. This year's competition was one of the largest non-national amateur events ever.

As a result of her hard work and dedication, Raina was able to beat out many competitors with much more experience.

Raina will no doubt go on to do very well in her next competition. She's going to be a tough one to beat!

Raina had this to say about her experience training with The Fit Connection:
Having been a client of The Fit Connection, I have come to know what true personal training is and what it can do to enhance your life and lifestyle.

I always thought I was in pretty good shape, but after spending time training with Paul I knew that things were going to change and boy did they! My body became firmer than ever, my legs and butt were tighter as well (we girls know how important that is).

I discussed my goals with Paul and things only got better from that point on. Paul's training worked every muscle in my body, allowing me to sleep better at night. My body became stronger, and my diet became cleaner as well.

Paul and I discussed the possibility of competing in the 2007 Excalibur Figure Competition. Paul made slight changes in my training and... wow! I was in better shape than I could have ever imagined. Within a short time I was ready. At the show, Paul was there again as a trainer reassuring me that I could do this, and he was right.

I know that Paul's intense training made the difference in my body. I would recommend Paul's training to anybody who wants to see a positive change in their body! If you would like to have confidence in whatever you wear, I urge you to contact him at once. Paul will take the time to consult with you which I found to be an added plus.

I look forward to training hard for my next event. Thank you, Paul, for all that you have given me. -- Raina Carter
Watch Raina's Workout Video #2:
Watch Raina's Workout Video #1:
Galen Cortina, MDPhD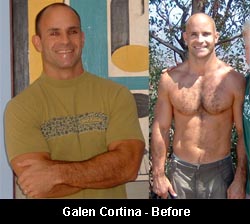 Our client and friend, Galen Cortina, came to The Fit Connection weighing a muscular 175lbs, yet was a bit frustrated by a training plateau.

As a credit to his immense determination and work ethic, Galen is now hitting the scales at a lean 205lbs after three years of training. A net gain of 10lbs of lean body mass per year, which is no small feat.

When prospective clients first see him training with us, their first question is: "how long will it take me to look like that?"

Galen's hard work has made him one of our most successful clients.

Galen had this to say about his experience with The Fit Connection: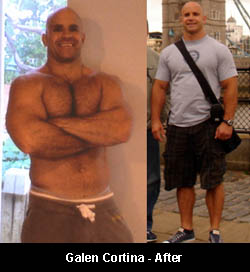 Wanna be a superhero? Training with Paul Harvey is better than gamma radiation or radioactive spider bites.

After a lifetime of reading comic books and benching 135 pounds, I put myself through as much self motivated training as I possibly could.

There were improvements but also serious stalls in progress and impenetrable plateaus. I could not get my size past 175 lbs and had average strength.

Then at 41 years of age I opted for personal training. I had two simple goals: size past 180 lbs and improved strength across the board.

Paul laughed at the first goal, and said no problem. I had my doubts because I had great trouble with gains.

I blew past 180 lbs, at 2 years I was steady at 195 lbs, and last summer was 205 lbs.

As for strength (and there are a lot of stronger people out there) I exceeded my expectations with a 310 pound bench, 495 pound dead lift, and pulling the entire stack on half a dozen different pieces of exercise equipment.

Being a client of Paul's is fun, hard work, and motivating. I catch myself 'prepping' for my workouts in advance to make sure they go well.

Now at 44 I get to feel like a superhero. -- Galen Cortina, MDPhD
Watch Galen's Workout Video #1:
Watch Galen's Workout Video #2:
Cherie Frost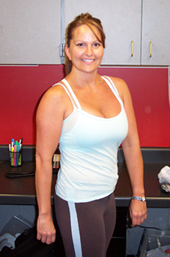 Our client and friend, Cherie Frost, came to us after making little progress while training on her own.

She wanted to lose weight and build lean muscle mass. Due to her lack of progress, in addition to upping the workout intensity, we also decided she needed more focus on her nutrition.

With a revamped nutrition and fitness program Cherie's hard work and dedication started to pay off quickly. She dropped 14 lbs of bodyweight (5% bodyfat), as well as 7.5 total inches off of her body.

Cherie had this to say about her experience training with The Fit Connection:
I started training with Donna in August of 2007. She told me that if I was dedicated and willing to work hard, that I was guaranteed to see results.

Honestly, I wasn't a believer. I thought that I was already working hard on my own, but I wasn't seeing progress.

Here I am, 5 months later, and I can't believe the changes I see. I've lost bodyfat, lost weight (2 dress sizes) and gained lean muscle.

I'm in the best shape that I've been in in years. I feel stronger, healthier and have more energy.

Working out with Donna has been more than a training program from day one. With her knowledge and positive attitude, I've found that staying in shape isn't impossible if you're willing to put in the effort.

My workouts aren't easy, but when you see results, you stay motivated. I've done all the hard work that's gotten me to this point - but I wouldn't have been able to do it without Donna paving the way. -- Cherie Frost
The Garcia Family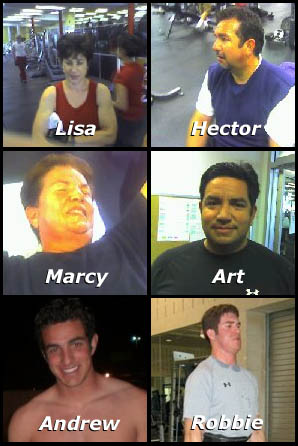 In early 2005, our client and friend, Hector Garcia, approached us about training with regard to overall fitness. Hector is an avid tennis and soccer player and was interested in a continuing weight training regimen. After a few months of training with us, Hector brought other family members onboard: his wife, Lisa, his mother Marcy, his father Hector Sr., his brother, Art, and his two sons, Andrew and Robbie, all came to train with us.

Each member of the Garcia family works extremely hard toward hitting their personal goals and we're proud of the results they've been able to accomplish.

The Garcia family had this to say about their time training with The Fit Connection:
Our family has a friendly competition going called, "Who Worked Out The Hardest With Paul?" Typical boasts include: "I did more lunges than you," "I worked so hard I almost puked," and "I bench-pressed more weight than you."

Essentially, we are all proud of what Paul pushes each of us to do and are very happy with the results. In fact, we are now approaching the four-year mark of our training with him for several times each week.

What makes this friendly competition a bit more unusual, however, is that it crosses three generations. Our sons started training with Paul when they were 15 and 17. Now college students, they continue to train on campus, successfully utilizing the techniques that he taught them. Our eldest son was even invited to join the UCLA Powerlifting Team. My husband and I are equally enthusiastic about Paul's training approach and do everything possible to avoid missing a workout. We both feel stronger and healthier than we did a decade ago. My in-laws, who are both in their 70s, have also thrived under Paul's instruction. My mother-in-law quickly lost over 28 pounds and has maintained her weight, in addition to making excellent gains in muscle tone over the years.

Not only can Paul skillfully train clients of different ages, but he also adapts to different needs and personalities, as well. He is excellent at working around assorted aches and pains, as well as speeding recovery from various medical procedures. He always keeps a fast pace and presents us with a challenging variety of exercises.

All of us have accepted the fact that it is far easier to simply do whatever Paul asks than to try to argue that we cannot, even if it initially seems impossible! The amazing thing is that Paul instinctively knows each individual's potential and doesn't let anyone underestimate what he or she can do. He has a wealth of knowledge about every aspect of fitness, health and training and we have yet to stump him with any of our questions.

Paul has instilled his passion for fitness in three generations of our family and we are forever grateful. -- The Garcia Family
Watch Lisa Garcia's Workout Video:
Cynthia Hart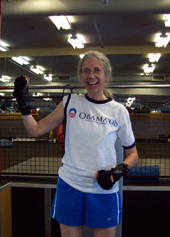 Our client and friend, Cynthia Hart, first came to us because she needed more muscular strength and endurance, additionally, she needed to lose unwanted bodyfat.

As a testament to her outstanding work ethic and determination, Cynthia has not only improved her strength and endurance, she is one of our strongest, and most dedicated, female clients, regardless of age.

Through her training, Cynthia has learned how to tap into her inner superhero! Cynthia had this to say about her experience training with The Fit Connection:


I had a "good-enough" fitness plan on my own that seemed to work well for me until I entered menopause. Then I started having age related twinges in my hips and back and (horrors!) I was seeing the beginnings of "middle-age" spread. My workout needed a makeover!

Under Donna's expert guidance, I have built muscle and developed improved balance. Those aches and pains in my joints have gone away, and I can still wear my size 4 pants!

With increased physical strength, I am developing a new self-image. The first time I picked up 70 pounds off the floor I felt like I was 10-feet tall. (Now my personal best is 115 pounds)

I don't hate my body anymore! Thank you, Donna! -- Cynthia Hart


Watch Cynthia Hart's Workout Video:
Tom King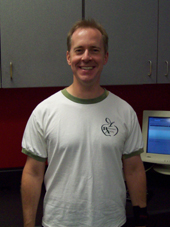 When our client and friend, Tom King, first came to us, he said he was interested in losing some unwanted pounds and gaining muscle mass and strength. He had been staying in shape through running and wanted to add a weight training regimen to his exercise routine.

Two years later (along with a lot of blood, sweat and tears) Tom has, so far, dropped 14 lbs of fat and gained 17 lbs of muscle - a phenomenal achievement. His drive and focus have allowed him to remake his body.

Tom had this to say about his experience training with The Fit Connection:


For years I had wanted to get into better shape but was worried about finding the right trainer. Through the recommendation of a friend who has been a Bally's member for many years, I contacted Paul and have been working with him twice a week since January, 2006.

My progress has been somewhat dramatic. When I go back East to visit family and friends, people heap praise on me for the difference they notice in how I look and carry myself. I have confidence and pride--two qualities I had lacked for several years. Even locally colleagues and friends mention the changes they have seen in me over the past few years, especially in regard to loss of fat and increased muscle mass.

Paul's approach is challenging but supportive. He cares deeply about me and in the work we are doing. Paul invests a great deal of time in helping me reach personal goals and each session presents a new approach. One of Paul's strengths is his attention to every aspect of my workout. He is constantly focused on every lift, jumping jack, leg raise (which he knows I hate!), etc. While one is working with Paul, you are his number one priority.

It truly has been life changing to work with Paul. My health and well-being have dramatically improved, and I am certainly pleased my friend recommended him for my personal training. -- Tom King


Jon Kramer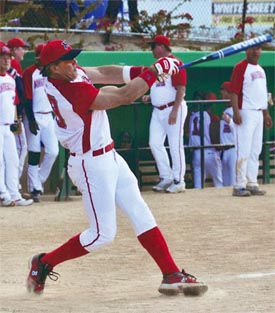 Our client and friend, Jon Kramer, initially came to us for corrective training for a knee injury sustained while playing softball. Due to his hard work we were able to completely rehabilitate and even improve the strength of his knees.

Due to the fact that Jon plays highly competitive softball on a national level team, we felt he needed to improve his core stabilization, flexibility and muscular endurance for optimal performance on the playing field. Due to his effort and determination, he has improved in each of these areas far beyond our loftiest expectations.

His athletic ability constantly challenges us as trainers to offer workouts that enable him to maximize his athletic potential. He outperforms most athletes we know who are 20 years younger, and will soon be inducted into the Softball Hall of Fame.

Jon had this to say about his time training with The Fit Connection:


I've been on a training regimen on a consistent basis for the last 35 years. Being an athlete, exercise and working out were always extremely important to me and became a major part of my lifestyle. Most of my knowledge was self-taught. I did a lot of reading and asking questions of other athletes, bodybuilders and gym owners. My dedication to diet and exercise enabled me to first compete on a professional level in baseball, and then for the last 25 years in slow-pitch softball.

Two years ago at a National Tournament I tore my LCL and had a fourth degree sprain of my ACL. My options were surgery, or a long road of rehab. I chose rehab and began physical therapy with an orthopedic technician. At this time, my wife Sandi was training with Donna. She mentioned to Donna that I was frustrated with my slow progress, and Donna said she had some ideas that might help.

That began my love/hate relationship with Donna, who I affectionately refer to as 'my stupid trainer.' Her main goal at the onset was to help me rehab my knee. Donna recognized that I was bored and discouraged with the pace set by the therapist. She introduced me to creative, fun, organized and challenging workouts which accelerated my healing. Once that was accomplished, she recognized that although I was quite strong and extremely athletic, I had never worked on flexibility and core training. She took care of this in a hurry. My workouts became more specialized. Donna introduced Pilates to my workouts, worked on stamina and continued to keep me challenged.

With Donna's help, I consider myself to be in top shape. I am successfully competing, not only with softball players of my own age, but with players half my age. Due to my newly enhanced level of physical fitness, I was also recently chosen to be a future contestant on the American Gladiators TV show. -- Jon Kramer


Watch Jon Kramer's Workout Video:
Sandi Kramer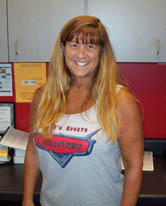 Our friend and client, Sandi Kramer, first came to us with a severe shoulder injury. Since putting her through corrective and stabilization training to strengthen her shoulder complex, she has blossomed into one of our strongest clients with regards to both muscular strength and core strength.

Sandi, just like her husband Jon, continues to amaze us with her progress & concrete determination to strive for a higher level of conditioning. No matter how her day has gone, she comes in ready to work and to be challenged by a dynamic workout she will always finish!

Sandi had this to say about her time training with The Fit Connection:


I have always been very athletic - swimming competitively and playing college softball. When I was active, my weight was under control. After having two kids and putting aside my activities to be a 'mom', the pounds started creeping up. Not only was I overweight, but I also started having back problems.

My chiropractor suggested a personal trainer. It would help me lose weight and strengthen my back and abdominal muscles. The trainer I chose was very inexperienced. Our sessions consisted mostly of talking. I was bored and uninterested, and certainly was not losing weight. During one of the last sessions with her, she had me do an exercise with way too much weight and I tore my rotator cuff and partially tore my biceps tendon.

I quit training and was thoroughly discouraged. Then my husband made me meet Donna. She assured me she could help, contacted my doctor to work out a safe exercise regime and worked with me on nutrition. She made me accountable for what went into my mouth by keeping a daily journal she checked twice weekly.

The best part of working out with Donna is that she makes the workouts fun! She is extremely creative, uses combinations of exercises, keeps everything fast paced, doesn't take 'no' or 'I'm tired' as an excuse, and is positive. I actually look forward to coming to our workouts.

I have lost almost 40 pounds, 12% bodyfat, and inches all around. But more important than my appearance, with Donna's help, I have completely rehabbed my shoulder, thus eliminating the need for surgery. My back is stronger than ever, and I feel healthy. -- Sandi Kramer


Brandy Peacock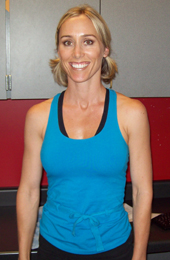 Our client and friend, Brandy Peacock, first came to us with the desire to lose a small amount of bodyfat and to push her workouts to another level.

With drive, determination and a work ethic that is hard to match, Brandy easily accomplished her training goals - dropping from an already-low 14% bodyfat, to an incredibly-low 11% bodyfat. Additionally, we upped her training intensity with weight training, plyometrics, and gym floor conditioning methods.

Brandy's hard work in the gym makes her the type of member who is an inspiration for anyone who sees her blistering workout intensity and pace. Brandy had this to say about her experience training with The Fit Connection:


Last winter I was fortunate enough to meet Paul and start my physical training program. I approached Paul with the lack of motivation to push myself to the level I desired. I wanted drastic results. I was ready to sculpt my body into top shape after having my second child.

Although I am accustomed to weight training and competed in Division I college sports, I was a novice to Paul's style of training. I am constantly challenged by his weight training workouts which are infused with explosive squats, plyometrics, and sprints to name just a few.

After six weeks, I had achieved more than I would have thought possible. The benefits included: a substantial drop in body fat (my leanest yet), increased overall body strength and energy, accelerated stamina, stabilized mood after recently having a baby, and sound sleep.

After two years, I still look forward to each workout, and prepare for each session like I am pitching in the college world series, as he continuously keeps me guessing by introducing new skills and methods to keep my interest. -- Brandy Peacock


Watch Brandy's Workout Video #3:
Watch Brandy's Workout Video #2:
Watch Brandy's Workout Video #1:
Amanda Ross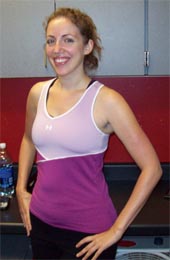 Our friend and client, Amanda Ross, first came to us because she wanted to lose weight and tone up her body. She had never worked out with weights prior to coming in and training with us. Additionally, she had always felt awkward and self conscious because of her lack of athletic abilities.

To help her reach her goals, We put her on a reasonable cardiovascular, weight training and nutritional program that would allow her to cut weight. To date, she has lost 10% bodyfat and an impressive 30 pounds.

With her positive attitude and 'never give up' tenacity, she has developed into a seasoned athletic individual. She is the type of individual who inspires others and her fitness program has become a permanent part of her life.

Amanda had this to say about her time training with The Fit Connection:
30 pounds and 4 dress sizes ago, I came to Donna at the worst I'd ever felt and looked. I was beginning to have terrible lower back pain from being so out of shape, had outgrown most of my clothes, and didn't feel comfortable in my own skin.

I've never been particularly healthy. I grew up in the Midwest with a passion for comfort food, and did everything I could to avoid sports as a child. Early memories of being laughed at in gym class left me with an attitude of "why bother trying?". Donna knocked that out of me once and for all! Through her tough (and I mean TOUGH!!) love, she taught me to push myself further than I'd ever thought possible. She taught me not to be afraid of food... that eating clean doesn't have to mean eating boring. She taught me that even after 30+ years of eating badly and being lazy, there is a healthy person inside of me clawing to get out!

I look and feel better than I ever have in my life, and after many years, finally feel like "me" again. Oh, and my old clothes? They still don't fit, but for the opposite reason!

Donna, there's no doubt you've changed my life. I know it sounds cliché, but I'm extremely grateful. Thank you! -- Amanda Ross


Amanda Streit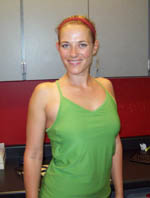 Our client, Amanda Streit, first came to us to challenge her and keep her fitness program consistent until her September wedding.

Amanda is definitely one of our hardest working, low-maintenance clients and is always up for high intensity workouts encompassing plyometrics and weight training accompanied by core stabilization components.

Additionally, we revamped her nutrition program, her sleeping habits and included cardiovascular training. She has successfully surpassed the results seen by most clients due to her very optimistic attitude, iron-clad discipline and tenacity to always succeed.

Amanda's will and desire truly make her a pleasure to work with. She had this to say about her time training with The Fit Connection:
I have always been athletic and have always loved to rev up my heart rate but felt I was lacking efficiency and a certain intensity in my workouts. That's where Donna came in. I started working with her two months ago and since then, I have lost 10 pounds and 5% of my body fat. Not to mention the muscle tone that is starting to appear.

Donna works me harder than I can work myself (which is pretty hard) and gives me incentive to stay on track and keep the momentum going on days that I don't work with her. I have a little over a month until my wedding and I can only imagine where I'll be by then. Not to mention the fact that I will continue working with her after the wedding.

I am so excited to see just how fit I can get! -- Amanda Streit


Allen Tai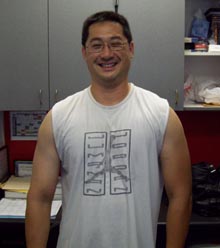 Our friend and client, Allen Tai, first came to us because he wanted to gain size and strength in his legs.

We decided he only needed one day of training per week as leg training takes a bit of recovery time and twice per week would have been overkill.

Using a program centered around squats and heavy leg presses, Allen worked extremely hard and the results speak for themselves: Over the course of his first year, Allen lost 1% bodyfat while gaining over 15 pounds of lean muscle mass, an amazing improvement. Allen went from pressing 180 pounds on the leg press to a hefty 810 pounds. Additionally, he increased his leg size by 1.5 inches.

Allen always comes in to the gym ready to give his all and it's been a pleasure to see his hard work pay off. Allen had this to say about his time training with The Fit Connection:
I started going to the gym in June, 1 year ago, and had been working out by myself. I met personal trainer Donna Milazzo, who told me that I needed to work on my legs as my legs were the weakest part of my physique. To fix the problem, she introduced me to Paul Harvey and that's when I started to train with him.

I trained with him one day per week to work on my legs and at first I couldn't take it - his training is tough and painful. After a month or so, my legs and body adjusted to his training and I started becoming much stronger.

Being a client of Paul's is motivating and fun - but there's a lot of hard work involved. With Paul's help, I lost a lot of excess fat and gained quite a bit of muscle on my legs and on my body as a whole.

Thanks a lot Paul, you are the best!! -- Allen Tai


Watch Allen's Workout Video:
Bernie Thurman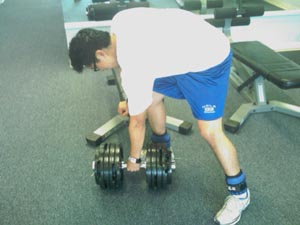 Our friend and client Bernie Thurman came to us with the goal of increasing his fitness level, general conditioning and strength.

Bernie came to us in fairly good conditioning - we instituted a program of weight training, sports conditioning, plyometrics and intense core training.

Due to Bernie's commitment inside and outside the gym, the results have come rather quickly. Bernie's strength and conditioning levels have increased rapidly to the point that he can handle just about anything we throw at him.

Bernie had this to say about his time training with The Fit Connection:
I've never had a personal trainer before, and the stories I've heard from some of my friends deterred me from really wanting to get one. However, when I began to train for a triathlon, I thought it might be prudent for me to get some extra help. What would it hurt spending a couple of bucks to get a personal trainer. If I didn't like it, I could stop.

A mutual friend recommended "The Fit Connection", specifically Paul, to help me in my training. Besides the recommendation, I had no idea of what I was getting myself in to.

After first meeting Paul, I was terrified. =) I kid you not, he is an enormously large man that could probably snap me in two if he felt like it. But after my initial terror subsided, I realized that he is extremely motivating and supportive.

Paul and Donna at "The Fit Connection" do not have a cookie cutter training program. From what I have seen, they tailor it specifically to what you are aiming to achieve and they do everything they possibly can to make sure you reach your goal. Not only do they help you in conditioning and weight training, they make sure to provide you with nutritional recommendations that fit your lifestyle.

I've been training with Paul for about a month now and the results are starting to show. My conditioning is much improved from our initial session where, I think I lasted about 15 minutes. (I was far more out of shape than I thought) It was definitely a reality check. Even if you think you are in great condition, they find a way to push you to the next level.

I can't say enough about these two. They motivate and inspire you to go beyond what you think you are capable of. If you're looking to get fit, look no further than "The Fit Connection". -- Bernie Thurman
---
View videos of more of our clients training by clicking here!